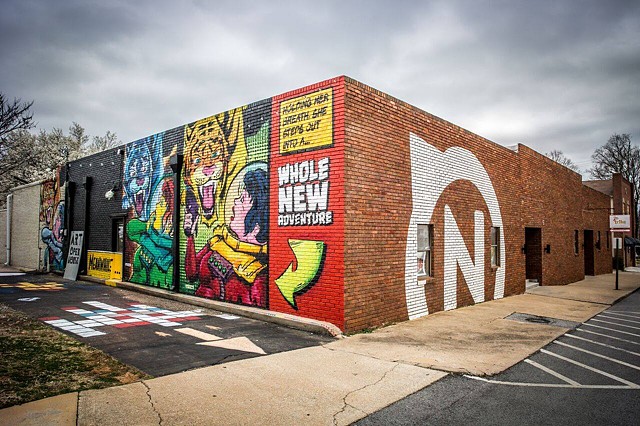 2016 Bottle Rocket North Opens in Bentonville

WHEN — Next gallery opening: Ben Edwards, "Redacted," June 3-4 WHERE — 209 N.E. Second St. in Bentonville COST — Free, open to public INFO — facebook.com/ bottlerocketartgallery, facebook.com/artansas
2020
Bottle Rocket Gallery in Fayetteville has for three years provided a space for artists creating controversial or challenging work to display and perform their art. On April 1, the nonprofit gallery opened a new space in Bentonville, to the delight of co-founder Kat Wilson.
"It's funny because before, our mission statement was to bring artists to Arkansas that we normally wouldn't see in such a small town as Fayetteville," Wilson says just days before the official opening of the new space. "And now it's almost like we're bringing Arkansas artists to Bentonville to show to an international or national audience that these artists wouldn't normally get to show to. We flip-flopped, but not even on purpose. It just kind of happened."


That national audience Wilson refers to is the expanding culture of artists, art lovers and tourists being drawn to Bentonville and the surrounding area thanks the influence of Crystal Bridges Museum of American Art and 21C Museum Hotel.
"I'm hoping that the Arkansas artists that we bring up here will sell work to the community because it seems like more of a buyers' market up here [in Bentonville]," Wilson says. "Maybe you make art in Fayetteville or Conway and maybe you can actually sell it in Bentonville. I feel like there's more of a buzz, too. We've gotten so many people hitting us up, wanting to perform [at Bottle Rocket] or show there. So that's really exiting."
The new gallery — called Bottle Rocket North — is located just off the downtown square in a building shared with Artansas, an organization that promotes Arkansas artists. Through a friendship-turnedpartnership with Mike Abb at Artansas, Wilson was able to find the gallery a new home when it looked like co-founder Sarah Leflar, owner of the first gallery space in Fayetteville, would be selling the property upon her recent move to California.
"Sarah decided not to sell, and we still get to keep the gallery space down there, so we get to program in both," Wilson says. "So we consider ourselves rogue — a pop-up gallery — that just happens to have two really cool locations right now … that we could get kicked out of at any moment! But if we do, we'll find a way. Right now we're going to concentrate on Bottle Rocket North. This is something we do as our community project. It's a fun thing that we do; we don't take ourselves too seriously."
Hosting an opening in conjunction with Bentonville First Friday — with a DJ, drinks by Pink House Alchemy and Bentonville Brewing Co. and a live mural painting — seems like just the way to introduce the gallery's fun vibe to Fayetteville's neighbors to the north. Kansas City artist and Bentonville native Zachary Laman was invited to create a mural for the building, which he completed live at the gallery opening for those in attendance.
"I still have roots here and being able to come back and leave that piece on the wall felt really good. I hope a lot of people see it," Laman says. "It's my very, very first time [showing in my hometown]. It's been really surreal. Kansas City is a really big art town, and Bentonville didn't have any of that [when I left in 2004]. It's exciting to come back and see people really facilitating places for people to show their work, and people being excited about art."
Wilson says there are plenty of plans for the new space through the end of the summer, including bringing in some well-known Arkansas artists to show their work. Aligning with the mission of the original gallery space in Fayetteville to involve local art students as well, Wilson says Bottle Rocket North will be a benefit for everyone in the art community.
"It felt like it would make us a little more legit to already have people that have big names in the area [showing in the new space]. It's good for students, too, to come and see people who are more established in their career — that have spent their life as artists. It's tough, and some people can really make it work, and showing these artists that have really made it work, it's very inspirational."
FAQ
Bottle Rocket North
WHEN — Next gallery opening: Ben Edwards, "Redacted," June 3-4 WHERE — 209 N.E. Second St. in Bentonville COST — Free, open to public INFO — facebook.com/ bottlerocketartgallery, facebook.com/artansas